VCI LEGAL PARTICIPATES IN 2022 ASEAN AND VIRTUAL INTERNSHIP PROGRAMMES, PARTNERING WITH SMU
VCI LEGAL PARTICIPATES IN 2022 ASEAN AND VIRTUAL INTERNSHIP PROGRAMMES, PARTNERING WITH SMU
ASEAN and Virtual Internship Programmes are offered by Dato' Kho Hui Meng Career Centre ("Career Centre") of Singapore Management University ("SMU") to encourage students to build up an international network and be global citizens. After a nearly two-year pause from overseas in-person internships, SMU students were able to finally travel to Vietnam to meet and work directly with employers in Summer 2022.
As one of the employers in this programme, Mr. Kent Wong, Partner and Head of Banking & Capital Markets at VCI Legal, was interviewed and featured in SMU Career Centre's Mid-Autumn Festival Newsletter, concerning the Internship Programmes of the Career Centre.
Mr. Kent Wong emphasized that VCI Legal has welcomed SMU interns for the past four years for virtual and onsite internships. "We are continually impressed with the caliber of students who apply to intern with us. Our student interns' work varies, allowing them to learn various skills." said Mr. Kent Wong.
Mr. Kent Wong also expressed appreciation that SMU students have demonstrated a great degree of professionalism, competency in the workplace, and enthusiasm in acquiring new skills while gaining learning and cross-cultural experiences in an emerging ASEAN market such as Vietnam.
Finally, Mr. Kent Wong thanked the Career Centre for doing a great job connecting VCI Legal with the School of Law and its students.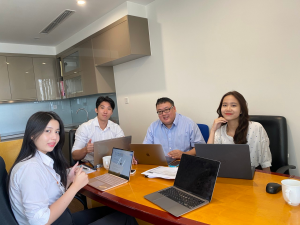 About VCI Legal:
VCI Legal is an international award-winning, full-service business law firm in Vietnam. The firm provides a wide range of advisory services and has gained a strong reputation for successfully handling corporate, commercial, financial and contentious matters. The firm's practice areas which have been highly recommended by various international magazines and agencies include: Corporate/M&A, Banking and Finance, Capital Markets, Insurance, FDI, cross-border transactions, Competition, Dispute Resolution, Energy, Infrastructure, IPR Management and Real Estate.
For more details about the lawyers and advisors of VCI Legal, please visit us at: http://vci-legal.com/professional-staffs/