VCI LEGAL PARTNER MAKES OPENING REMARKS ON THE TWO-YEAR ANNIVERSARY OF THE IMPLEMENTATION OF THE EVFTA AT HUTECH UNIVERSITY
VCI Legal's Partner, Kent Wong, who is also the Chairman of EuroCham's Legal Sector Committee ("LSC") was invited to make the opening remarks on the implementation of the EU-Vietnam Free Trade Agreement ("EVFTA") at the National Scientific Conference "The Impact of New Generation Free Trade Agreements to the Vietnamese Economy", organized by HUTECH University's Faculty of Law on Saturday, 20 August 2022.
As a new-generation FTA between Vietnam and 28 European Union member states, the EVFTA is a comprehensive and high-quality agreement which ensures balanced benefits for both Vietnam and the EU.  Within the EVFTA are provisions which give consideration for the differences in development levels between the two sides. Accordingly, the role, applicability, benefits and outstanding issues of this FTA are the major concerns of many investors and researchers.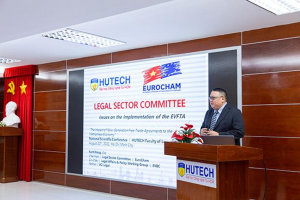 Attending the conference as Chairman of EuroCham's LSC, Mr. Kent Wong briefly introduced the history and contributions of EuroCham and especially, EuroCham's LSC, for the concerns of European investors to the Vietnamese Government. In his speech, Mr Kent Wong also briefly introduced the main contents of the EVFTA and some main issues of primary concern for European investors in the implementation of the EVFTA in Vietnam, specifically, (i) market access for EU service providers; (ii) technical barriers to trade; and (iii) Vietnamese Government procurement.
Aside from the attendance and participation of distinguished guests, Law Faculty professors, lecturers and students of HUTECH University, business partners, law firms, journalists also presented in an interactive dialogue.  This National Scientific Conference was successfully held, attracting the attention of many scientists, researchers, and professors from 14 universities from all over the country.
Link to the National Scientific Conference "The Impact of New Generation Free Trade Agreements to the Vietnamese Economy" on HUTECH's website: The seminar on the impact of new generation FTAs attracts many researchers, lawyers, and lecturers across the country (hutech.edu.vn)
About VCI Legal:
VCI Legal is an international award-winning, full-service business law firm in Vietnam. The firm provides a wide range of advisory services and has gained a strong reputation for successfully handling corporate, commercial, financial and contentious matters. The firm's practice areas which have been highly recommended by various international magazines and agencies include: Corporate/M&A, Banking and Finance, Capital Markets, Insurance, FDI, cross-border transactions, Competition, Dispute Resolution, Energy, Infrastructure, IPR Management and Real Estate.
For more details about the lawyers and advisors of VCI Legal, please visit us at: http://vci-legal.com/professional-staffs/