VCI LEGAL'S PARTNER, MR. KENT WONG INTERVIEWED IN VIR REGARDING LEGALITIES RELATED TO INSURANCE FOR RENTAL MOTOR VEHICLES
On October 12, 2022, Mr. Kent Wong, Partner and Head of Banking & Capital Markets at VCI Legal, was interviewed by Vietnam Investment Review ("VIR"), regarding legalities related to insurance for motor vehicle rental.
With car rentals becoming more popular in Vietnam, the selection of suitable insurance is coming to the fore. Kent Wong discussed basic and optimal insurance packages that are available to customers and raised an important issue that has not been covered much in Vietnam is insurance for rental motor vehicles.
Kent Wong said that currently, there is only one type of compulsory civil liability insurance (CCLI) for motor vehicle users. This type of insurance does not apply to motor vehicles but is intended to protect victims in traffic accidents caused by motor vehicles, and provides financial protection for motor vehicle users against unexpected risks. Kent Wong also explained about making a claim for this type of insurance if accidents within liabilities occur; specifically, compensation and liability for insurance claims for health and life casualties, or asset damages caused by motor vehicles.
In addition to CCLI, which is mandatory for motor vehicle users, Kent Wong also gave some advice on types of optional insurance that can be bought by the car rental company and included in the rental cost. If the lessor does not purchase these types of insurance, the lessee can also purchase additional insurance for the rented motor vehicle, including Car Occupants Accident Insurance (COAI), and Car Physical Damage Coverage (CPDC).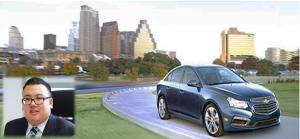 The interview article can be found here at: https://vir.com.vn/legalities-related-to-insurance-for-motor-vehicle-rent-97077.html