VCI LEGAL'S PARTNER, MR. KENT WONG QUOTED IN VIR REGARDING FOREIGN BUYERS' PROPERTY TAX
            On August 20, 2022, Mr. Kent Wong, Partner and Head of Banking & Capital Markets at VCI Legal, was interviewed by Vietnam Investment Review ("VIR"), regarding the tax implication of foreigners buying property in Vietnam.
Some foreigners wish to transfer the rights and obligations of a long-term leasing contract of apartments to another party. However, there is the sticky issue of what kind of tax must be imposed for this transaction.
Mr. Kent Wong expressed the opinion that even though a contract between a developer and a foreigner is called a "leasing contract", in reality, it is a real estate transfer contract. As the Chairman and Head of the Real Estate Working Group of Euro Cham's Legal Sector Committee, Mr. Wong also explained that 10 percent tax applies after signing contracts for other commercial lease contracts. However, for the leasing contract, the developer transfers the land use right to the foreigner buyer under the Law on Real Estate Business. The foreigner then becomes the owner of such unit for 50 years. So this leasing contract would be considered a real estate transfer contract and a tax of 2 percent of the total transfer value should be applied.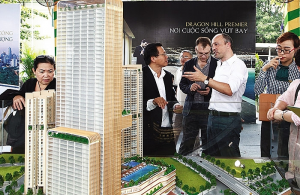 The interview article can be found here at: https://vir.com.vn/foreign-buyers-face-property-tax-limbo-95750.html#comment-system-cms