FIFA AND THE HAI PHONG FC-MPANDE MIX-UP
A. Summary of the dispute between Mpande & Hai Phong FC
In March 2021, Hai Phong Football Club (Hai Phong FC) and its Ugandan footballer, Joseph Mbolimbo Mpande (Mpande), were involved in a labor dispute. Due to the impact of the Covid-19 pandemic, Mpande could not fly to Vietnam to play in the V. League for Hai Phong FC because there was no commercial flight. Hai Phong FC then decided to end the contract without Mpande's agreement. Mpande then took the case to FIFA, requesting salary payment.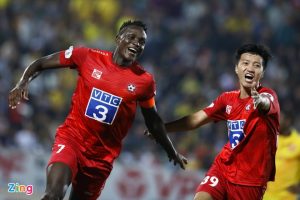 On 14 April 2021, Hai Phong FC and Mpande reached a settlement agreement in which Hai Phong FC paid Mpande USD 14,250 and the two sides agreed to sign the protocol of the non-appeal agreement. However, the parties did not inform FIFA of such an agreement.
Unaware of such agreement, on 7 May 2021, FIFA issued a decision based on Mpande's earlier claim in March requesting Hai Phong FC to pay Mpande USD 56,500.
After receiving FIFA's decision, Hai Phong FC announced to FIFA that it had reached an agreement with Mpande. There was also no further complaint from Mpande after the agreement was signed.
After Hai Phong FC reached out to Mpande to help confirm the agreement with FIFA, FIFA overturned its decision.
B. Legal implications of the issue
The above case raises several legal questions regarding the labor relations between a foreign player and a Vietnamese club, especially in the dispute resolution jurisdiction of FIFA and relevant matters. The following parts shall explore (1) FIFA's exclusive jurisdiction on football-related disputes; (2) conflict with Vietnamese court's jurisdiction; and (3) experience from the case of Mpande & Hai Phong FC.
1. FIFA's exclusive jurisdiction on football-related disputes
FIFA claims its exclusive jurisdiction in resolving most disputes related to football in the world. FIFA sets its mechanism for dispute resolution and prohibits the relevant stakeholders from bringing any potential disputes to the normal domestic courts, unless specifically provided for in FIFA regulations. FIFA ensures this exclusion by obliging the member association to insert a clause in their statutes stipulating that their clubs and members are in turn prohibited from taking a dispute to ordinary courts. It is understood that such exclusive jurisdiction is regulated for the betterment and development of football around the world by preventing governmental and political interference in football matters.
As a member of FIFA, Vietnam Football Federation (VFF) also includes such exclusion clause in Article 66 in its statutes. In particular, VFF, members, players, coaches, intermediary units and organizers of football matches and tournaments may not bring any football-related disputes to the Court except for special cases are provided for in the Statutes and Regulations of FIFA. All football-related disputes fall under the jurisdiction of FIFA, AFC and the VFF.
Under FIFA regulations, the main dispute resolution body is the Dispute Resolution Chamber (DRC). The DRC is one of three chambers under FIFA Football Tribunal, as provided in Article 54 of FIFA Statutes. The DRC is FIFA's deciding body that provides arbitration and dispute resolution on the basis of equal representation of players and clubs and an independent chairman. According to Articles 24.1 and 22 of FIFA Regulations on the Status and Transfer of Players (FSTP), the DRC is competent for employment-related disputes between a player and a club of international dimension. The local version of DRC is National Dispute Resolution Chamber (NDRC). The NDRC is managed by local member associations of FIFA, such as VFF, with the given standards provided by FIFA. The NDRC is in charge of local dispute resolution, such as a labor dispute between a player and a club with the same nationality. Furthermore, FIFA also recognizes the jurisdiction of the Court of Arbitration for Sport (CAS) with headquarters in Lausanne (Switzerland) to resolve certain types of disputes.
2. Conflict with Vietnamese court's jurisdiction
Under Vietnamese regulations, a labor dispute, such as the dispute between Mpande and Hai Phong FC, is within the jurisdiction of Vietnamese dispute resolution bodies, including labor mediators, labor arbitration councils and the courts. This, however, conflicts with the exclusive jurisdiction of FIFA and its local member associations (e.g., VFF) as stated above. Questions arise as to which body's jurisdiction prevails, and what would happen if the parties insist on bringing the dispute to the national court? The answers to such questions can be seen from the following actual dispute in Vietnam.
In 2013, player Chi Cong disputed with Binh Duong Football Club regarding his transfer money. The parties intended to bring the dispute to the court. VFF, however, assertedthe exclusiveness of FIFA's jurisdiction and demanded an explanation from the parties. VFF also emphasized that if the parties did not follow the correct process and arbitrarily broughtthe case to the national court, going against the regulations of FIFA and VFF, they would be disciplined according to VFF's regulations.
Although FIFA and VFF are only independent organizations, and the decisions of DRC/NDRC do not have the status of arbitral awards or court judgments, FIFA's system proves to be very effective. Through disciplinary actions such as being banned from playing, being banned from registration in football competitions, etc , FIFA and its local member associations may enforce their decisions by interfering directly with the participation right of the subjects in the football communities of the world.
3. Experience from the case of Mpande & Hai Phong FC
For dispute resolution, DRC usually utilizes its own set of instruments as the applicable law. For a labor dispute, these instruments may include FIFA Statutes, FIFA Regulations on the Status and Transfer of Players (FSTP), and FIFA Procedural Rules Governing the Procedures of the Players' Status Committee and the Dispute Resolution Chamber (Procedural Rules). The dispute resolution body may consider other sources of laws such as national law when determining in a dispute, but it is not compulsory to do so.
While being an independent set of instruments, FIFA regulations still follow the general legal principles. In the dispute between Mpande and Hai Phong FC, FIFA still recognized the party autonomy principle and halted the enforcement of its disciplinary decision after it acknowledged that the parties had already settled the payment. While there is no clear guidance on such annulment procedure, FIFA regulations provide ample room for FIFA's authoritative body to amend its decisions to be more suitable for each case. Article 24 of FIFA Disciplinary Code allows the judicial body to determine the type and extent of the disciplinary measure, with the option to scale down or dispense with it entirely. This is also in line with the principle set out in Article 5.4 of the Procedural Rules, which provides that a claim shall be dealt with only if there is a legitimate reason to do so. In addition, given their status as a private institution, not a governmental body, FIFA may exercise its authority with some flexibility, with the ultimate view of maintaining a fair and healthy football community.
However, the implementation of FIFA's decisions and the coordination among the parties are subject to further improvement. In this case, due to the lack of coordination between the parties and lack of clarity in terms of procedures, FIFA still issued the decision and later annulled it when they received the proper confirmation from Mpande on the settlement. Therefore, it is important for the relevant parties to understand and comply with this very unique set of regulations. Local associations, such as VFF, also need to play a more active and responsible role in bridging FIFA and local clubs and players.
Relevant topic: CONDITION ON AN EMPLOYER TO TERMINATE LABOUR CONTRACT