GUIDE TO DOING BUSINESS IN VIETNAM 2023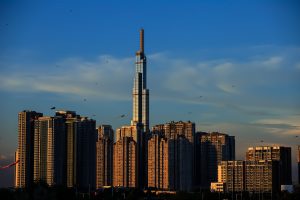 ---
Vietnam is a dynamic and fast-growing market that offers many opportunities for foreign investors and businesses. With a population of approximately 100 million, a young and educated workforce, and a strategic location in Southeast Asia, Vietnam has become an attractive destination for trade and investment.
This report has been in circulation over the last 20 years and is frequently updated on a quarterly basis. In this guide, you will find practical information and insights on the business opportunities along with legal, regulatory aspects of doing business in Vietnam, as well as some tips and advice from our firm who have been there and done that. We hope this will provide good reference material for companies that are interested in the Vietnamese market, as well as those that are currently operating in Vietnam.
Key updates about the FDI climate in Vietnam can be found in the following areas:
1. Information Technology
2. Real estate
3. Securities
4. Retail
5. Transport, logistics and infrastructure
6. Import/Export
7. Energy
8. Banking
9. Electronics
10. Garments and textiles
Thank you for your interest in this guide to doing business in Vietnam and VCI Legal's services.
Click here to view our report (Ebook)
Click here to view our report (PDF)
---
About VCI Legal: 
VCI Legal is an award-winning business law firm in Vietnam with a wide range of legal and corporate services, among other things, corporate, banking & finance, tax, labor & HR, real estate and dispute resolution with special focus on international investment disputes, We also offer our specialized type of service called "In-House Counsel Service" with the aim of assisting our clients in dealing with all types of internal and external issues arising from their day-to-day operations and business activities. With our offices in both Hanoi and Ho Chi Minh City, we have a tremendous depth of experience in providing well-reasoned and comprehensive legal advice to not only multinationals and Fortune 500 companies, but also small and medium enterprises.
Our professional team comprises one of the leading law firms in Vietnam with service quality highly recommended and acknowledged by international legal service reviewers such as: The Legal 500, AsiaLaw Profiles, IFLR, KPMG's Tax Directors' Handbook, Acquisition International, ACQ Global, Global Law Experts, Finance Monthly, and Chambers & Partners.
For many years, VCI Legal has been ranked among the top law firms in Vietnam for corporate, finance, insurance, taxation, employment, intellectual property and investment. With a "Can Do Attitude" combined with a "Know How" capacity, our firm is big enough to provide comprehensive legal support for any in-house legal matters, yet small enough to care about each of our clients. We undertake each engagement with the mindset of a long-term relationship, with the will to give whatever it takes to understand and fulfill your needs.
---
Ho Chi Minh City  
Suite P7-42.OT06, Vinhomes Central Park, 720A Dien Bien Phu, Binh Thanh Dist., Ho Chi Minh City, Vietnam  
Tel.: (+84) 028 3827 2029  Fax: (+84) 028 3823 4436 
Hanoi  
Suite 1903, Floor 19, W1 Tower, Vinhomes Westpoint, Pham Hung, Nam Tu Liem Dist., Hanoi City, Vietnam  
Tel.: (+84) 024 3936 4985 – (+84) 024 3936 4987 
 Affiliated Offices: Beijing – Shanghai – Hanoi – Ho Chi Minh City – Singapore – New Delhi – Dubai  -Doha – Zurich Paris – Rome – Brescia – Washington D.C.- Los Angeles