THE EU-VIETNAM FREE TRADE AGREEMENT (EVFTA)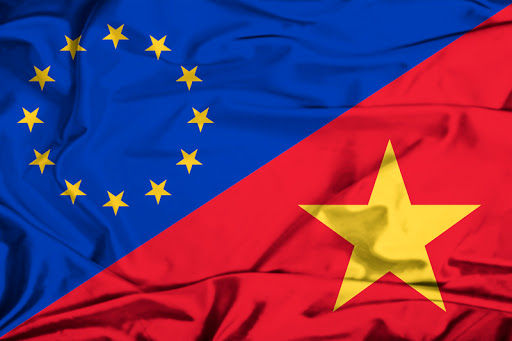 I. Major commitments
The commitments of Vietnam and the European Union ("EU") in some of the key areas of the EU-Vietnam Free Trade Agreement (EVFTA) are as follows:
Reduction of import and export tariffs: elimination of over 99% of customs duties on exports in both directions; Vietnam and the EU agreed not to impose export tariffs on goods when exporting from one territory to the other.
Tariff quotas: Originating goods imported into the EU within the quota (as stated in the agreement) will be exempt from import tax.
Rules of origin: The EVFTA provides regulations about methods to determine the origin of a good, mechanism of self-certification of origin, information shown on the certificate of origin, transit and subdivision of consignments in third countries, terms of administrative error management and item specific rules.
Trade in services – Investment: Vietnam committed to facilitate EU investors in areas such as professional services, financial services, telecommunications services, transportation services, distribution services. Both sides committed to follow general obligations in trade in services and investment.
Government procurement: Vietnam and EU committed to open market in Government Procurement.
Intellectual property rights: Commitments in intellectual property include copyright and related rights, trademarks, industrial designs, implementation, geographical indications (GI) and Most Favoured Nation (MFN).
Trade and Sustainable Development.
II. Opportunity
EU Market is going to open with 0% import tariffs for many kinds of goods. Vietnamese enterprises should quickly take this opportunity (particularly in agriculture and fisheries, processing and manufacturing).
Vietnamese enterprises have an opportunity of benefiting from EU investors in large capital and high technology.
The EU supply chain could be a great motivation for Vietnamese enterprises to adjust and develop business strategy, restructure to meet international standards, and to be competitive with EU enterprises.
III. Challenges
The European single market is a market where people have a high personal income and high requirements for goods as a consequence. Thus, they have a strict consumer protection policy with non-tariff barriers for import goods (such as technical barriers). Therefore, it is a significant challenge for Vietnamese enterprises to meet different standards, satisfy all the requirements in testing and certification measures for products and services.
In order to receive 0% import tariffs from the EU, Vietnamese enterprises need to meet the origin criteria. The EVFTA provides for three methods to determine the origin of a good: (i) pure origin goods; (ii) processed or significantly processed goods; and (iii) product specific rules (PSR).
In addition, the cumulative rule allows Vietnam and EU countries to consider the material of one of the other member countries as their own when using such material to produce an originating good under the EVFTA.
In practice, it is difficult for Vietnamese enterprises to obtain a certificate of origin. Furthermore, in some industries in Vietnam, enterprises have to receive material from third party states which are not a member country that has a FTA with the EU. Typically, in the textiles and clothing industry, we usually have to use material from China or Taiwan. With material from such countries, it is impossible for Vietnam's products to apply the 0% import tariff from EU.
When Vietnam opens key service industries for EU investors, it will lead to high pressure and great competition for Vietnamese enterprises.
– For distribution service industries: There will be great pressure for Vietnamese enterprises. Since the Vietnamese market has such potential when the retail market is opened, EU investors certainly will take advantage and quickly enter, dominate the market by distributing their goods in the Vietnamese market. Meanwhile, most of enterprises in Vietnam (97%) are small and medium companies (SMEs). Therefore, the M&A market will become more dynamic.
– In financial services and transportation service industries, there will be more pressure for Vietnamese enterprises too, as EU investors have great potential in finance and technology.
There will be a great challenge for Vietnamese enterprises in the pharmaceutical industry. When pharmaceutical products from the EU are free to enter the Vietnamese market, their prices with good quality will be more competitive. Especially when Vietnam will open Government procurement for EU contractors to access.
After the ratification of the EVFTA, Vietnam has to amend a number of laws in order to be compatible with the implementation of EVFTA and to create a uniform legal framework. Changing the law on investment, law on enterprises and law on intellectual property will require considerable amendments. Therefore, Vietnamese enterprises need to update those amendments for fruitful implementation, which will take some time.
IV. Key points that enterprises need to be concerned with in anticipation of opportunities brought by the EVFTA
Vietnamese enterprises need to pay significant attention to the following issues in order to successfully take opportunities brought by EVFTA. If not, there might be difficulties and disadvantages. Therefore, Vietnamese enterprises should:
Carefully study all provisions of the EVFTA; fully research all related legal documents and policies (issued by both Vietnam and EU) and prepare to meet the requirements;
Prepare for a forthcoming vibrant M&A market;
Build a technology system to control information of M&A to ensure business transparency.
Restructure their companies, improve quality of goods, production processes and technology.
Develop a risk management system.
V. Conclusion
The World Bank has noted that the impact on Vietnam's GDP of the EVFTA, if fully implemented, is expected to be three times that of the CPTPP, making the EVFTA the largest FTA Vietnam has ever signed.
For Vietnam, the EVFTA brings Vietnam to more future international economic integration. The EVFTA also open the opportunity to diversify itself economically and engage and solidify a trade relationship with key foreign bilateral trading partner while at the same time decreasing its reliance on Chinese FDI and market.
---
DISCLAIMER
This LBN newsletter are NOT legal advice. Readers are advised to retain a qualified lawyer, should they wish to seek legal advice. VCI Legal are certainly among those and happy to be retained, yet VCI Legal is not to be hold responsible should any reader choose to interpret/apply the regulations after reading this LBN without engaging a qualified lawyer.