The effect of COP26 & CBAM on Vietnamese manufacturers exporting to the EU
26th UN Climate Change Conference of the Parties (COP26)  
The 26th Conference of the Parties to the United Nations Framework Convention on Climate Change (COP26) concluded on November 13, 2021 in Glasgow, Scotland, UK, with the reaffirmation of maintaining the goal of limiting the increase of global temperatures to 1.5 degrees Celsius according to the Paris Agreement adopted at COP 21 in Paris on 12 December 2015.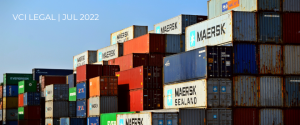 At COP26, Vietnam and many of its trading partners (USA, EU, …) made stronger commitments to take action to adapt to climate change after the summit on climate change. Vietnam committed to increasing its share of clean energy in the total primary energy supply to at least 20% by 2030 and 30% by 2045 and to gradually phase out coal-fired power generation as well as committing to net zero emissions by 2050. Many EU countries and the US, also made similar commitments. Therefore, international sources of funding for high-emission economic activities will decline sharply, and markets will increasingly demand more environmentally responsible production and products. 
Vietnam is known as a factory of the world. But with the commitments at COP26, Vietnam must become a "green factory", a green production center of the world. To have net zero emissions, the challenge for a developing country like Vietnam is not a small one. 
The first difficulty is that technology for carbon reduction and recycling, and carbon reuse and removal are lacking. Current carbon capture and storage technologies are energy and water-intensive. Research and commercialization of this technology require funding for R&D, financial subsidies to offset the risks of unproven technologies, tax incentives, and investment subsidies with direct capital. The green transition and the development of clean energy requires that it be carried out not only at a business or a production stage, but throughout the supply chain. This is especially evident in some manufacturing industries such as steel and cement production, information and communication industries. This challenge is also clearly seen in the construction industry. 
To move higher up the ladder, the creation of green products is an irreversible new consumption trend. Europe has initiated a number of new trade mechanisms such as the "Carbon Border Adjustment Mechanism" (CBAM) to tax potentially polluting imports such as steel, aluminum and fertilizers. 
Besides, many economic sectors of Vietnam today are still dependent on non-renewable energy sources such as energy from fossil fuels, and high emissions such as production of electricity from coal, the production of processing industries, agricultural farming methods which use a lot of chemical fertilizers, pesticides, etc. Therefore, the structure of Vietnam's exports has a high level of resource intensiveness and leaves environmental impacts on water, air, soil, and forests. Therefore, if it is not quickly transformed into production technology to save energy, resources, use renewable energy, environmentally friendly products, etc., Vietnam's export products will become increasingly difficult to sell in many advanced markets. 
The green production is a future new trend and will be included in negotiation programs and trade agreements. Countries like Vietnam, if they do not convert in time, will be at a disadvantage when exporting goods to other markets. However, if Vietnam upholds social and environmental responsibility to jointly solve global problems such as climate change and reduce greenhouse gas emissions, it will open up many development opportunities, promote investment, and green commercial products and services. 
The Carbon Border Adjustment Mechanism (CBAM) 
CBAM was officially proposed for the first time on December 11, 2019 within the framework of the European Union Green Deal and was approved by the European Parliament (EP). On July 14, 2021, the European Commission (EC) presented its legislative proposal on CBAM. Accordingly, all imports into the EU in high-carbon industrial sectors, such as iron and steel, aluminum, cement, fertilizers and electricity, will have to be covered by the mechanism of CBAM. 
CBAM will apply to the direct emission of CO2 into the environment during the production of the above products. To ensure fair competition, imported products will have to purchase pollution permits from the EU Emissions Trading System (ETS) based on carbon emissions in the production process. In addition to the goal of reducing carbon emissions globally, the EU's intention to impose a carbon border tax (CBT) is because countries exporting goods to the EU directly leads to current climate change but there are not enough policies to reduce carbon emissions and Vietnam's exports are not subject to the same carbon tax as EU domestic goods. However, countries that export goods to the EU that have strong policies aimed at reducing carbon emissions will be exempt from the CBT. 
The mechanism will enter into force on January 1, 2023 with a transition period of three years to January 1, 2026. During the transition period, importers will have to report the emissions contained in their imports without paying an adjustment fee. At the end of the mechanism's transition period (in 2025), the EC will assess how CBAM is performing and might expand its reach to more products and services – including the value chain and can include "indirect emissions" (e.g. carbon emissions from using electricity to produce goods). After being officially operated from January 1, 2026, importers will have to purchase one CBAM certificate for each ton of CO2 equivalent in products imported into the EU. Violations of the provisions of the CBAM mechanism will be sanctioned similar to those in the ETS system of the EU. 
For Vietnam, on January 7, 2022, the Government issued Decree No. 06/2022/ND-CP on "Mitigating greenhouse gas emissions and protecting the ozone layer" to reduce about 564 million tons of CO2 by 2030. This decree requires exporting enterprises to convert technologies to reduce carbon emissions in the production process. From there, goods exported from Vietnam to the EU will be subject to a lower CBT or not be subject to a CBT when the standards for carbon emissions in the production process comply with EU standards.