COOPERATIVE AGREEMENT SIGNING CEREMONY BETWEEN VIAC & BUSINESS ASSOCIATIONS | SEMINAR "LEGAL RISK PREVENTION AND DISPUTE RESOLUTION IN BUSINESS IN THE CONTEXT OF MARKET FLUCTUATIONS"
On May 8th, 2023, Mr. Phung Anh Tuan, the Managing Partner of VCI Legal and the Executive Vice Chairman & Secretary General of the Vietnam Association of Financial Investors (VAFI), attended the "Cooperative Agreement Signing Ceremony Between VIAC & Business Associations" organized by the Vietnam International Arbitration Center (VIAC) in Hanoi.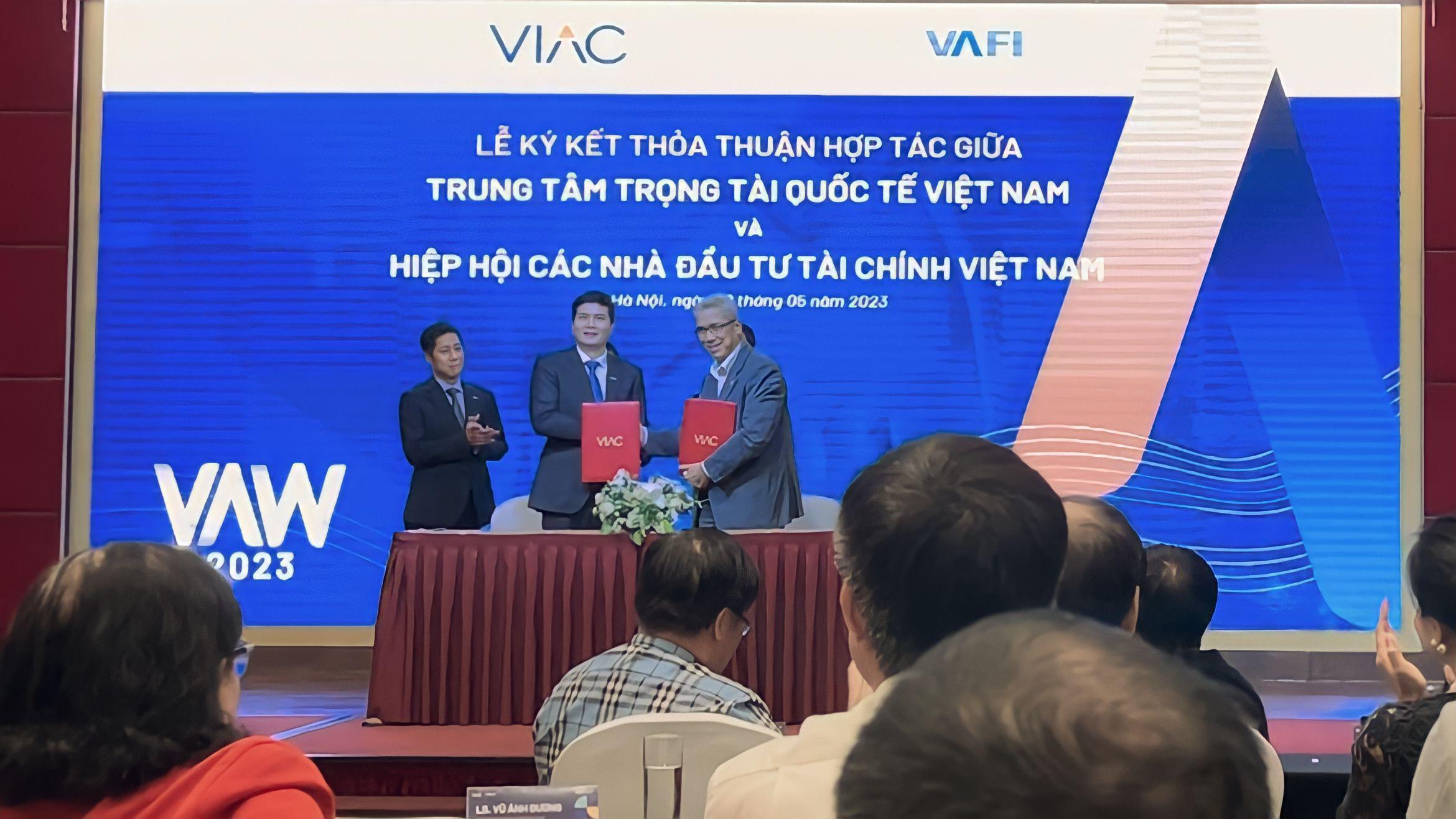 Attending the signing ceremony were Mr. Vu Tien Loc – Member of the National Assembly, Member of the Economic Committee of the National Assembly, Chairman of VIAC; along with the leadership representatives of 19 business associations participating in the signing with VIAC. Mr. Phung Tuan Anh – Vice Chairman of VAFI represented the association to attend and carry out the signing ceremony. 
As part of the event, VIAC organized a seminar titled "International investment and trade in a rapidly changing world: What should businesses do?" with the participation of reputable speakers in the field of trade and investment. At the seminar, Mr. Phung Anh Tuan discussed with the speakers the topic of "Accessing Capital – Solving Difficulties for Businesses". According to Mr. Phung, to maintain foreign direct investment in Vietnam, the quality of the legal environment, feasibility, and transparency in the legal system are important factors. In Vietnam, the activities of arbitration and conciliation related to protecting foreign investment and settling the dispute between investors and the state (SDS), have not received enough attention. Mr. Phung Anh Tuan believed that businesses and organizations could enhance their cooperation with VIAC to develop ISDS, as this is an effective area for maintaining foreign investment in countries. In addition, for controlling foreign investment, businesses should focus on investing in high-quality projects instead of exploiting resources or utilizing cheap labor. Regarding indirect investment capital mobilization (such as bank loans, stock issuance, bond issuance, and asset sales), businesses should focus on actual profitability and not have unrealistic dreams about the value of the business or unreasonable valuation.  
Through the event, VIAC has acknowledged the support and cooperation from business associations in providing information and assisting member businesses to improve their legal capacity, enhance prevention skills, and effectively resolve disputes. The seminar has also provided more legal knowledge, thereby proposing appropriate solutions to prevent risks and resolve disputes in international investment and trade, reducing obstacles for businesses. 
The Vietnam ADR Week 2023 (VAW 2023) was initiated ny VIAC for the first time in 2020 an is expected to become an annual event connecting the community of arbitrators and mediators in Vietnam and internationally.
This year, with the cooperation for over 60 partners and the participation of nearly 80 domestic and international experts, VAW aims to attract thousands of attendees.