VCI LEGAL ENGAGES IN THE 2ND PORT DEVELOPMENT SOUTH EAST ASIA SUMMIT 2023 (PDSEAS 2023)
VCI Legal would like to announces its active participation in the 2nd Port Development South East Asia Summit 2023 (PDSEAS 2023), held on September 14 and 15 in Ho Chi Minh City, Vietnam. The summit served as a platform for industry leaders, experts, and stakeholders to explore the current state and future trends of the South East Asia ports and shipping sector.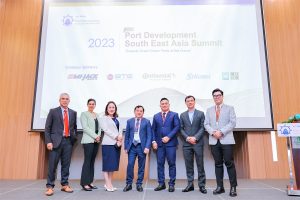 Representing VCI Legal at the summit were Mr. Tuan A. Phung, Managing Partner, and Mr. Mathieu Abdoul-Quinque, Associate. During this event, Mr. Phung had the honor of delivering a speech on "The Legal Perspective of Port Investment and Development in Vietnam", sharing insights on the legal aspects, regulatory challenges and potentials of port investments in Vietnam. 
In addition to the insightful discussions and presentations, VCI Legal's representatives had the opportunity to visit the Cat Lai port, gaining practical insights into the operations and infrastructure of one of Vietnam's prominent ports. 
VCI Legal extends its heartfelt gratitude to the organizers of PDSEAS 2023 for putting together this remarkable event, which provided an invaluable platform for knowledge sharing, networking, and exploring opportunities in the dynamic field of port development in South East Asia. 
For media inquiries or more information about VCI Legal's participation in PDSEAS 2023, please contact: 
Tuan A. Phung Esq. │Managing Partner │VCI Legal 
Email: tuanphung@vci-legal.com 
Phone: +84  908 168 275​ │+84  918 168 275 
About VCI Legal: 
VCI Legal is a leading law firm based in Hanoi and Ho Chi Minh City in Vietnam, specializing in providing comprehensive legal services to international and domestic clients. At VCI Legal, we strive to provide valuable insights and practical guidance to international businesses looking to explore opportunities in Vietnam.  
 —
See Mr. Tuan Phung presentation here.